Expositions * Trade Shows
Business Meetings * Corporate Events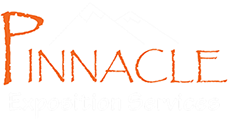 I started working in this industry over 18 years ago. Little did I know, I would love the challenges that this industry offers on a daily basis. It doesn't matter if it is a 6 booth marketing exchange event, or a 1500 booth multi-hall convention center event, the day to day excitement and nuances of this industry make this the most rewarding job I've ever held.
Coming out of high school in a small town and not knowing what to do, I enlisted in the Navy like my grandfather, to the chagrin of my other grandfather, being an ex-Marine. After 8 years of sailing the oceans and seeing the world, I knew it was time to find my niche in the business world.
Working for a small exposition company just outside of Philadelphia, I began to learn this industry from the ground up. Warehouse work, building and repairing equipment and understanding all the little things that make an event successful...
number one being customer service.
After all these years, all the people I have met and worked with, I still wake up every day excited to see what this industry has to offer.
You can always reach me directly at jpelton@pinnacle-expo.com
It would be a pleasure to service your event, like it is our ONLY event.
Jason Pelton
President
Pinnacle Exposition Services LLC
Corporate:
69 Willirene Way
Clayton NC 27520
Phone: 855-451-6893
Fax: 855-475-7248
All items are Copyrighted to Pinnacle Exposition Services LLC 2018