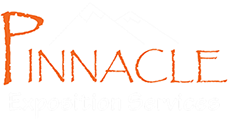 Expositions * Trade Shows
Business Meetings * Corporate Events
Here are just a few samples of some of the items we offer.
Please feel free to contact us if you need access to our Online ordering system, or if you have a special request that you require for your exhibit space.
You can reach us at info@pinnacle-expo.com
Standard Tables
Standard 4', 6' and 8' long x 24" wide exposition table
They come in 30" or 42" heights.
A variety of skirt color options are available.
Seating Options
Black Padded Side Chairs, Black Arm Chairs, and Padded Stools and other seating options







Accent Tables
Cafe, Bar and end tables to suit your every need.
Standard rounds are draped in colored cloth or different colored tops.







We can create a variety of custom exhibit rentals for your specific needs.
Just need a banner stand display or a standard accordion "pop-up" style, we can handle that too.
Contact our design department for further details.
Standard Flooring Options
Pinnacle Exposition Services LLC
Corporate:
69 Willirene Way
Clayton NC 27520
Phone: 855-451-6893
Fax: 855-475-7248
All items are Copyrighted to Pinnacle Exposition Services LLC 2018